When it comes to space and upgrades, first-time home buyers are more willing to compromise than repeat buyers, according to the National Association of REALTORS®' 2011 "Profile of Home Buyers and Sellers."
While they have big wish lists too, first-time buyers seem to be most driven by finding a home that offers a reasonable monthly mortgage payment.
"Single home buyers tend to value affordability above all when they are choosing a home and a neighborhood," says Jessica Lautz, NAR's manager of member and consumer survey research. "They also focus more on living some place convenient to friends and family, as well as entertainment and leisure activities." Read More.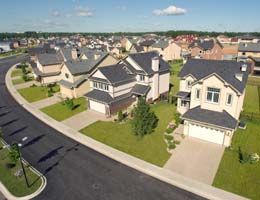 Buying a home that declines sharply in property value can put you underwater on your mortgage, erode your net worth and leave you unable to relocate for a new job or adapt to a change in household income. And one of the biggest factors that determines whether a home will rise or fall in value is its neighborhood.
That's actually a good thing, because you don't need a crystal ball to evaluate a neighborhood's direction, says Andrew Schiller, creator of NeighborhoodScout.com, a real estate research website.
"The places that tend to hold on to their value are places that basically do well across two primary dimensions that anyone can think about and evaluate neighborhoods by," Schiller says.
These two criteria are access to jobs and access to amenities. Those and a few others can help you get a sense of where a neighborhood is headed. Read More.
Are there neighborhoods that are considered "hot" places to settle down or perhaps that are on the right cycle to experience significant turnaround? Adding neighborhoods to your site can be a powerful way to show that you are an expert in this market to buyers and sellers. From a listing strategy perspective, featuring neighborhoods can help you gain credibility with your sellers and help you gain market share. Imagine going on a listing presentation and showing sellers that you have featured their neighborhood specifically on your website. Read More.
One in five U.S. homeowners have either moved from their home or would like to move because their neighborhood or community wasn't ideal for their lifestyle, according to a recent survey by Better Homes and Gardens Real Estate LLC in collaboration with leading media and marketing company Meredith Corporation.
The findings bolster Better Homes and Gardens® Real Estate's assertion that community and lifestyle decisions are critical components of the home-buying process. Read More.